CaféTO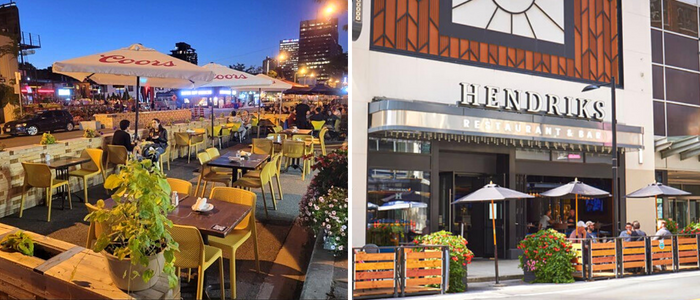 Potential Vendors
Suppliers
GripBlock
Pop-up Street Patios
About
Full-Service Patio Provider with Engineer Approved Platform.

GripBlock Patios comply with all CaféTO 2023 standards.

Fully customizable Full Service Includes:

-Free Customer Design
-Free Delivery, Installation and Removal
-Free storage for the off season


Book your Patio today!
We manufacture and distribute community parklets, mobile outdoor patios, and pedestrian bypasses that are all engineer approved.

Pop-Up Street Patios comply with all
Café TO 2023 requirements and accessibility standards.

Pop-up Street Patio's turnkey service includes:

-Delivery, Installation and Removal included
-Engineer Approved designs included
-Storage for the off season included

Contact us today!

Pricing
The cost for single patio (approx. 18ft x 7 ft) would be: $3,200.00 / year .


A reduced price for larger or multiple units. Please reach out directly to inquire about larger sizes.


The cost for a single patio (approx. 18ft x 7ft) would be $3,500.00/year.

A reduced price for multiple units or extra length would apply as follows;

Extra full patio + $3,200.00
Extra 10' 4" length + $1,800.00
Extra 6' 9" length + $1,350.00
Extra 3' 3" length + $650.00

*Please see attached PDFs for all pricing an lease information.
Additional details (including pricing, lease arrangements, and sample contracts)
Please visit our CafeTO 2023 Information Page for all info related to pricing, lease, and more.
Patio Leasing Arrangements Overview

Sample Contract Template
Contact Details
Phone: 416-627-4632

E-mail:
mark.lavelle@nucap.com

www.gripblock.com/cafeto


Phone: 905-578-4141

E-mail:
info@streetpatios.ca

www.streetpatios.ca/
***Please review the available grant information below for potential subsidies of up to 50% of the above noted pricing for your patio installation.
***Please ensure that you review all documents and reach out to the supplier directly if you have any questions or would like to move forward.
Grants & Financial Support
CaféTO Property Improvement Program (50% up to $7,500.00 available for your CaféTO installation)
The CaféTO Property Improvement Program is available to owners and tenants of commercial and industrial properties in Toronto to improve the appearance and/or function of exterior spaces associated with the property. This program is funded by the Government of Canada through the Federal Economic Development Agency for Southern Ontario.
Funding Available
Grants cover one-half of the costs of eligible property or site improvements up to a maximum amount of $5,000 (based on a minimum of $10,000 of improvements). Funding can include patio improvements on private property and spaces on public property for which a valid permit has been issued.
Additional grant funding of up to $2,500 is available for exterior accessibility improvements such as the installation of temporary platforms level to the sidewalk for a curb lane café (rented, leased, or purchased), accessible ramps for patios on private property, handrails and other exterior accessibility devices which meet Accessibility for Ontarians with Disabilities Act (AODA) design standards.
Architectural, engineering from a certified Accessibility for Ontarians with Disabilities Act (AODA) specialist and Building Code Identification Number (BCIN) registered designer fees may be covered to a maximum of $1,000 per application.
For more information, please visit: City of Toronto CaféTO Property Improvement Program
Sample Drawings *Sample drawings will be updated as soon as they are complete.
**If you have any drawings from previous years that you would like to share, please send them to info@toronto-bia.com.
Other Resources
Types of Cafés
Amplified Live Music on Patios
Learn about the City of Toronto's Amplified Live Music on Patios program that allows for amplified live music on CaféTO cafés from May through October 2023.
If participating in the program, patios must comply with the City's Noise Bylaw, at all times. Only cafés on main streets are included – cafés on local roads are not permitted to host amplified live music performances through this program. More information available in the CaféTO staff report.
Curb Lane Cafés Map
The Curb Lane CaféTO map will return in 2023 (link will be updated)
The Curb Lane Café map shows the locations of curb lane cafés, as well as, installations of public parklet cafés, temporary bicycle parking and temporary advisory loading zones.
For general questions about the CaféTO program:
Email: cafeto@toronto.ca