The Iron Horse Returns to Midtown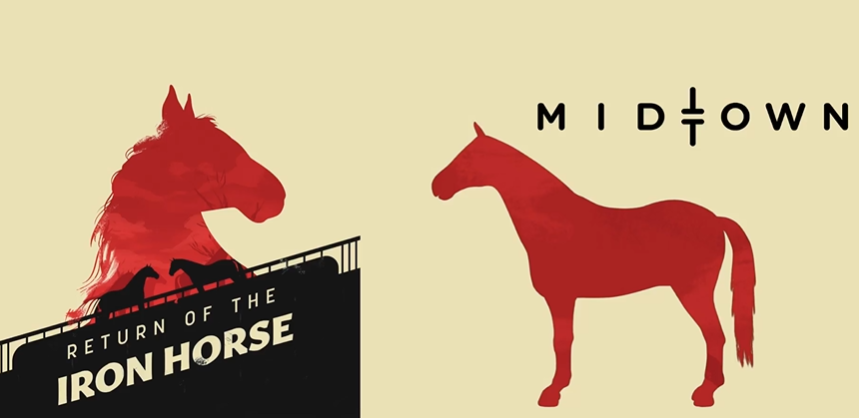 THE IRON HORSE RETURNS TO MIDTOWN
Public art installation to be unveiled on November 30 will serve as important new Toronto landmark
TORONTO, ONTARIO (October 30, 2019) – The Midtown Yonge Business Improvement Area (BIA), in partnership with the City of Toronto, is pleased to announce the return of the Iron Horse sculpture to the Kay Gardner Beltline Park Bridge as a permanent public art installation. To commemorate the event, Midtown BIA invites members of the media and the community at large to attend the Official Unveiling of the new sculpture, The Iron Horse 2019 which will take place atop the Kay Gardner Beltline Park Bridge that crosses Yonge Street, just south of Davisville Avenue on Saturday, November 30, 2019, at 10:00 am.
"We are very excited to bring back the much-loved public art installation as part of the BIA's Streetscape Master Plan implementation, and this time the sculpture will be tastefully illuminated in order to maximize its visual impact," says Jennifer Gittins, Board Chair, Midtown Yonge BIA. "It will enhance the bridge that forms the southern gateway to our neighbourhood and will be an iconic marker and point of reference."
The original sculpture, designed by Toronto artist Robert Sprachman, was installed in May 1994, and was on display for two years. The Midtown Yonge BIA and the City of Toronto are sharing the project costs, and the BIA will take on the responsibility of on-going project maintenance.
"When this project was first considered for inclusion in the BIA's streetscape plan, we saw it as an opportunity for the BIA to demonstrate its commitment not only to our business area, but to the broader community," continues Ms. Gittins. "Acting as a patron of public art may not be a typical BIA endeavour, but in this case, and in this prominent location, and with considerable City support, including that of Councillor Matlow, it just makes sense."
The Iron Horse is a direct reference to the historic significance of the bridge. Originally a trail for horses and buggies, railway tracks were laid along the bridge to accommodate steam engines. The bridge now conveys people over Yonge Street as part of the Beltline Park trail. Once installed, the life-size sculpture of 12 galloping stallions will serve as a strong visual reminder of the importance that the railroad played in our history, and will bring attention to a unique, multi-purpose trail that provides recreational opportunity for all area residents.
The new sculpture is being manufactured locally using 90% recycled fiberglass and plastic materials to recreate the original, with a few modern updates. The new version will be much stronger and easier to maintain. A new solar-powered LED lighting system will softly illuminate the horses and pedestrian pathway, rendering the silhouettes more visible at night. The sculpture is designed to be unobtrusive to users of the bridge and will not impede seasonal maintenance work such as snow removal.
For more information and event details, please visit www.midtownyongebia.ca and follow Facebook/MidtownYongeBIA.