In a city desperate for more transit, for Toronto's Little Jamaica it could be bad news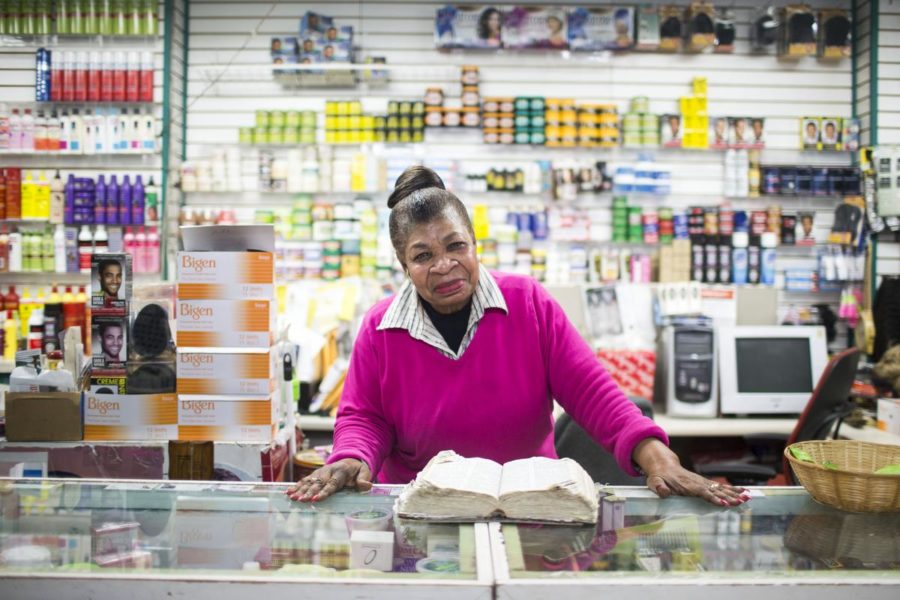 Source: toronto.com
These days, Monica Lewis spends her time at work waiting for customers who never arrive.
The owner of Monica's Cosmetic Supplies Ltd. on Eglinton Ave. West just east of Oakwood Ave., Lewis has operated a business in the neighbourhood for decades.
But she says sales at the shop, which is stocked to the ceiling with colourful shampoo bottles, boxes of hair dye, and wigs, have plummeted to next to nothing.
"We're not making any business at all. We just come out here and sit," she said one recent evening. "I haven't sold one dollar… And this is how the days are."
Lewis isn't alone. Vacant storefronts dot the stretch of Eglinton just west of Allen Rd., which is known as Little Jamaica. Some stores that are open are obscured behind construction hoardings heralding the pending arrival of a powerful force that's already reshaping the neighbourhood: the Eglinton Crosstown LRT.
The $5.3-billion transit line is being paid for and built by the provincial government, and is one of the largest construction projects in the country. Although its eastern portion will run above ground, on this part of Eglinton it tunnels beneath the neighbourhood of mostly two- and three-storey mixed-used buildings.
Once it opens in 2021, it will provide residents across Eglinton with a quick connection to midtown and the Line 1 subway. Five stations will serve the stretch between Allen Rd. and Keele St., delivering rapid transit to neighbourhoods where median household incomes are as much as 43 per cent lower than the city as a whole.
But some in the community worry residents and business owners who make up the area today won't be around to reap the benefits.
Five years of construction have already been hard on local independent retailers, forcing traffic restrictions and the removal of on-street parking spaces. Some fear that when the Crosstown is finally complete, with improved transit will come gentrification that will break up a community that has been a cultural hub for Toronto's Caribbean population for generations.
"The concept of the community, Little Jamaica, is no longer going to be in existence," predicted Martin Jeffrey. He's operated the Pure Vibes Barber Shop near Eglinton and Marlee Ave. for the past eight years, but said he doesn't know how long he and his neighbours will last.
"What we are actually fighting for is to keep the community, under the identity of the Caribbean community," he said.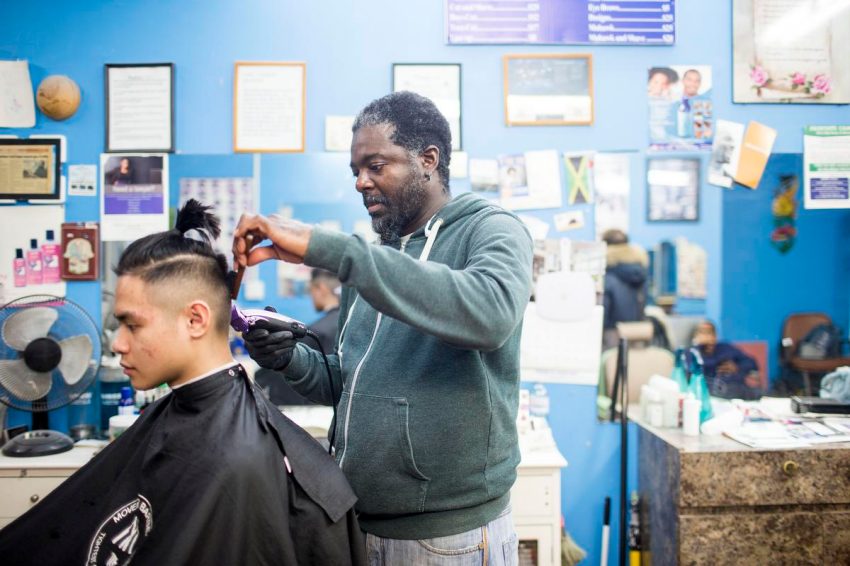 Martin "Pure Vibes" Jeffrey cuts hair in his shop. Jeffrey said local businesses face an uncertain future with the arrival of the Eglinton Crosstown LRT. "I hope in the next five years, I'm still here." (Carlos Osorio/Toronto Star)
Martin "Pure Vibes" Jeffrey cuts hair in his shop. Jeffrey said local businesses face an uncertain future with the arrival of the Eglinton Crosstown LRT. "I hope in the next five years, I'm still here." (Carlos Osorio/Toronto Star)
It's easy to see what a city gains when a new transit line is built. But the story unfolding in Little Jamaica poses a different question — what does it stand to lose?
There's no consensus about the precise boundaries of Little Jamaica, but by some definitions the neighbourhood stretches more than three kilometres between Allen Rd. and Keele St.
The area has been a destination for members of the Caribbean diaspora since at least the 1960s. According to Natasha Henry, president of the Ontario Black History Society, some of the first arrivals were women who immigrated through the federal government's West Indian Domestic Scheme, which recruited young, single women to work as labourers in Canadian homes.
As Ottawa shifted its immigration policies to accept more people from outside of Europe, over the course of the 1970s and 1980s more than 100,000 Jamaicans came to live in Canada. Many of them settled in Toronto, and Eglinton West became one of the largest Jamaican expatriate enclaves in the world.
Independent businesses were integral to the community's identity. Caribbean-Torontonians across the city would come to the strip to shop for familiar staples like roti, patties, and hard dough bread. For a time the area's record shops and recording studios made the area second only to Kingston, Jamaica as a global hotbed for reggae music.
Although the demographics of the neighbourhood have fluctuated over time, the impact of the Crosstown is expected to accelerate change.
First came the construction, that began in 2013 with the erection of headwalls for underground work. Store owners say customers are staying away because of snarled traffic and the lack of parking. According to the York-Eglinton Business Improvement Area (BIA), some retailers have decided to shutter as a result of the work, and others are barely hanging on.
As some of the Caribbean-owned businesses leave, they are liable to be replaced by new retailers able to afford higher rents commanded by close proximity to the new transit line. Residential rates could also rise.
There is also the prospect of developers buying up empty properties and tearing them down to build larger developments. Zoning rules endorsed by the city in anticipation of the Crosstown would allow as-of-right mid-rise development along much of the LRT route, which could result in buildings of eight or nine storeys in Little Jamaica.
Sean Hertel, a researcher and urban planning consultant, examined the link between gentrification and transit a 2016 paper published by the City Institute at York University. It contended that while investing in transit infrastructure can help alleviate inequality, it can also "trigger forces that can produce injustice."
Residents "with financial means and social status are able to relocate into neighbourhoods to access amenities like transit. Once in the neighbourhood, they reshape it for their needs. It has the effect of displacing existing residents where their neighbourhoods are no longer affordable," the paper stated.
Hertel said the Crosstown could spur that kind of turnover in Little Jamaica. "A lot of the dry cleaners, bakeries, barber shops, etcetera, could have a very high chance of becoming displaced," he said.
Loxsley Brissett owns Spence's West Indian Bakery, a Little Jamaica institution. He hopes the Eglinton Crosstown LRT will benefit businesses like his. "I think more people might come into the area," he said. "More customers." (Carlos Osorio/Toronto Star)
He argued that to mitigate the gentrifying effects of the LRT, the city should stipulate that any new mid-rise developments be required to keep ground floor retail spaces small, instead of creating larger storefronts unaffordable to independent businesses. The city could also require local business owners be given first right of refusal to the spaces.
But Hertel cautioned policy-makers' ability to control gentrification is limited. "The real challenge is that municipalities, planners particularly, can only do so much to soften the blow and intervene upon market forces," he said.
Orville Smith moved to Eglinton from Jamaica in 1980, when he was a teenager. He says the fortunes of Caribbean businesses had declined in recent years, but the LRT has made things worse.
"The impact of the Crosstown, I would say that it's devastating to the businesses. It is now, and it will be worse in the future," said Smith, a founder of 100 Brothers, a local non-profit dedicated to cultural preservation, employment, and youth training.
Like other community leaders he says he isn't opposed to the Crosstown, and believes it could benefit the area. But he wants local inhabitants to have a voice in how Little Jamaica is reshaped.
Romain Baker, co-founder of Black Urbanism TO, agrees. His group seeks to break down barriers that have traditionally prevented Black communities from engaging in the political process.
"There needs to be some accountability," he said. If the transit line is going to transform the neighbourhood, "what can we do to co-create the space?"
Store fronts on Eglinton Ave. West are hidden behind construction fencing for the new Oakwood station on the Eglinton Crosstown LRT. Many independent retailers in the Little Jamaica neighbourhood say work on the project has been tough on business. Metrolinx says it has a "robust business support program." (Carlos Osorio/Toronto Star)
Underlying the pair's concerns about the Crosstown is a broader belief that while Toronto officially prides itself on celebrating its diversity, the Black community of Little Jamaica hasn't received as much recognition as places like Little Italy or Chinatown.
"The people, they do not feel that they are respected for their contributions," Smith said.
Marie Critchlow, who owns Just Incredible Hair and Beauty Products near Oakwood, sees inequity between the city's approach to Little Jamaica and its response to business owners on King St. downtown.
In November, the city launched a streetcar priority project on King that restricted traffic and removed parking. Within weeks complaints about lost business from theatre district restaurateurs secured them meetings in the mayor's office, increases to the city's business-assistance budget, city-subsidized free parking, and widespread media coverage.
"It's grossly unfair," Critchlow said. "At least down on King St. you have people talking, and people are listening."
She believes there's a deliberate effort from those in power to push out Little Jamaica's businesses. There's little direct evidence for the charge, but the sentiment is echoed by others in the neighbourhood.
"I think they have a bigger plan for Eglinton," she said.
Metrolinx, the provincial agency in charge of the Crosstown, says it's keenly aware of the community's concerns, and before construction even began it worked with the city to create "a robust business support program."
"Our goal is to bring economic benefits to both the residents and businesses of these communities, not to push anyone out," said Metrolinx spokesperson Anne Marie Aikins.
To address the loss of parking on Eglinton, Metrolinx worked with the city to ease restrictions on nearby streets, and erected signage directing drivers to local lots. Signs were also posted informing customers how to access shops during the disruption.
The agency collaborated with the city and local BIAs on an ad campaign called "Experience Eglinton" that encouraged people to shop on the street. Metrolinx is also providing BIAs on Eglinton with $10,000 a year to promote local business, and last summer sponsored a program to install art in storefronts.
Councillor Josh Colle (Ward 15 Eglinton-Lawrence), who represents the section of Eglinton between Dufferin St. and Marlee Ave., says he's doing everything he can to preserve Little Jamaica's heritage.
Councillor Josh Colle led a push to rename an alley south of Eglinton Ave. West as Reggae Lane. Community organizer Romain Baker says it was a positive initiative, but unless more is done to preserve Little Jamaica, the lane's murals could become monuments to a community that no longer exists. "If the neighbourhood that he's trying to memorialize isn't there, then I feel like it's a futile effort." (Carlos Osorio/Toronto Star)
In 2015, he led a push to honour the area's musical legacy by erecting a mural commemorating local and international reggae greats on a side street that was renamed "Reggae Lane."
Last October, he successfully moved a 24-point motion at council that directed the city to explore everything from temporarily deferring commercial taxes to waiving fees for street events, offering financial relief to businesses behind construction hoardings, providing free parking, and staging Nuit Blanche events in the area. City staff have yet to report back on those initiatives.
Colle acknowledges the Crosstown is going to change Little Jamaica, but says he wants to help the neighbourhood endure, not just as a "heritage district" but as "a real vibrant one where there are Caribbean and Black business owners and ones that are thriving."
Not everyone in Little Jamaica is worried about the Crosstown. Michael Nelson is a barber who's owned More Than A Hair Cut for nine years. He said he isn't concerned about Little Jamaica losing its unique character, because he believes it already has.
Not only have many businesses owned by Jamaican-Canadians already closed up shop, but there are new West Indian communities in places like Brampton. "It's not like 25 years ago when if you want a Black barbershop you've got to come to Eglinton," he said.
Michael Nelson, owner of More Than a Hair Cut barber shop, says that while construction for the Eglinton Crosstown LRT has inconvenienced customers, he believes "in the near future, it should be a better development for the community." (Carlos Osorio/Toronto Star)
Census data show Little Jamaica is no longer a destination for Caribbean immigrants. Those coming to Eglinton West from the area are now far outnumbered by people arriving from places like the Philippines.
Some longtime business owners could actually stand to profit from the LRT. Sales at Monica Lewis' beauty shop might be slow, but she owns the building, and says since the Crosstown construction began real estate agents come by regularly to ask if she's willing to sell.
Though her business is sagging, she isn't ready to fold yet.
"I am not going to let anyone push me out," she said. "I'll go when I'm good and ready."