DMS ShopHere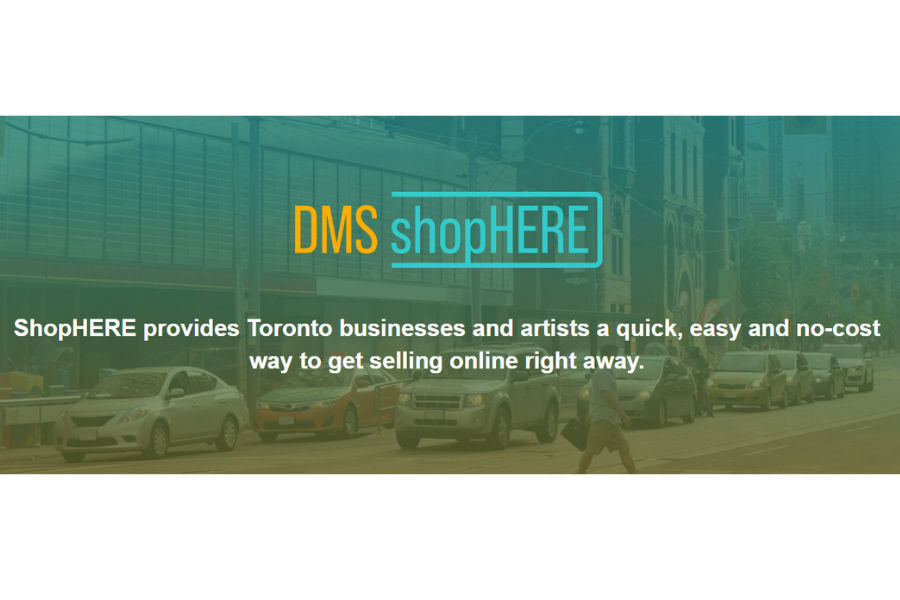 Today, Mayor John Tory announced the launch of ShopHERE, a program to help Toronto independent businesses and artists open a free online store to minimize the economic impact of the COVID-19 pandemic.
ShopHERE will provide Toronto independent businesses and artists the opportunity to develop an online store, which will be built and launched for free in just a matter of days. Hands-on support will be provided throughout the entire process from volunteer website developers and marketing and business students.
ShopHERE is supported by a number of community and corporate partners, including Toronto Association of Business Improvement Areas, Shopify, Google, Mastercard, Microsoft, Facebook, eBay, Ritual, Trufan, eShipper, Snapchat, Magnet and Schulich School of Business.
The program will provide Toronto's independent businesses and artists with:

• A template to develop an online store on Shopify, customized with their information, branding, logo, etc.
• Hands-on assistance setting up and launching their online store
• Training and support for digital marketing, shipping and operating an online store
• Access to free tools and online advertising credits to support the launch of their online store.
An estimated 49,501 Toronto business, 7,371 of them restaurants, bars or cafes, are eligible for the ShopHERE program.
The initial program is available now through the end of August and the City's goal is to develop 3,000 online stores for Toronto independent businesses and artists.
To help develop the stores, volunteers from Toronto's technology community are contributing their time. A number of companies have already agreed to participate, including Global Skills Hub, Scotiabank, General Assembly, Brain Station, Juno, FreshBooks, NEXT Canada, TechTO and TribalScale. Toronto tech companies with an interest in supporting small independent businesses and artists are encouraged to assist if they can.
The ShopHERE program will be delivered via the Digital Main Street platform. Toronto independent businesses and artists can sign up for their free online store at digitalmainstreet.ca/shophere.
The ShopHere program is a part of the Mayor's Economic Support and Recovery Task Force's short-term economic support and recovery plan for Toronto's businesses.
The City's website is updated daily with the latest health advice and information about City services and social supports. Check toronto.ca/covid-19 for answers to common questions before contacting the Toronto Public Health COVID-19 Hotline or 311.
Quotes:
" We are committed to doing everything we can to help our mainstreet small businesses get through this crisis. The ShopHERE program would not be possible without the generous community and corporate support of our partners. Today, I am issuing a challenge for more Toronto technology companies to get involved – as they have done countless times during this pandemic – and volunteer to build online stores for Toronto's independent businesses and artists to help them survive and recover."
– Mayor John Tory

"The ShopHERE program is one of the many tools that the City, with the help of its corporate and community partners, is introducing to help local businesses mitigate COVID-19's devastating effects and support their recovery efforts. I want to thank the Toronto tech community and Shopify for their outstanding collaboration and leadership."
– Deputy Mayor Michael Thompson (Ward 21 Scarborough Centre), Chair of the Economic and Community Development Committee

"We're not taking our foot off the pedal and in our city's effort to support independent businesses, especially the mom and pops that are heart of main streets everywhere. The ShopHere program will help even more small businesses get online and keep businesses viable as we work together to recover from the impact of COVID-19. Keeping small businesses afloat is critical until we can get our communities back out on main street."
– Councillor Brad Bradford (Ward 19 Beaches-East York)

"Our main street businesses are facing unprecedented times due to COVID-19. They need to be able to sell online if they are going to survive and we are proud to help launch ShopHERE to help them achieve this. This program is critical in ensuring our main streets can adapt and evolve during this crucial time. Launching ShopHERE and providing Toronto's small businesses and artists the opportunity to receive an online store at no cost is an incredible opportunity we are excited to provide."
– John Kiru, Executive Director, Toronto Association of Business Improvement Areas

"Supporting small businesses is at the heart of what we do and that starts with empowering entrepreneurs with the critical digital tools they need to reach their customers. Helping business owners navigate today's challenges is our number one priority and we're excited to continue working with Digital Main Street and the City of Toronto. ShopHERE will open virtual doors for local businesses by setting them up with online stores built on Shopify, and helping future-proof their business by creating an omni-channel experience."
– Satish Kanwar, VP of Product, Shopify

"The small business community has been hit disproportionately by COVID-19. We're partnering with the City of Toronto and Digital Main Street to help Toronto small businesses build a digital presence and navigate the challenges ahead."
– Sabrina Geremia, VP and Country Manager, Google Canada
Shopify is a leading global commerce company, providing trusted tools to start, grow, market and manage a retail business of any size. Shopify makes commerce better for everyone with a platform and services that are engineered for reliability, while delivering a better shopping experience for consumers everywhere. Headquartered in Ottawa, Canada, Shopify powers over one million businesses in more than 175 countries and is trusted by brands such as Allbirds, Gymshark, PepsiCo, Staples and many more.
The Toronto Association of Business Improvement Areas (TABIA) is a non-profit umbrella organization working with the 83 Business Improvement Areas within the City of Toronto, who in turn represent more than 40,000 business and property owners.
Google's mission is to organize the world's information and make it universally accessible and useful. As a global technology leader, Google's innovations in web search and advertising have made its website a top internet property and its brand one of the most recognized in the world. Google Canada has offices in Waterloo, Toronto, Montreal, and Ottawa with over 1,500 Canadian Google employees working on teams across Engineering, AI Research, Sales and Marketing.
For more details visit www.digitalmainstreet.ca/shophere