TABIA, Digital Main Street and Mastercard collaborate to bring free on-demand Cybersecurity training to small businesses.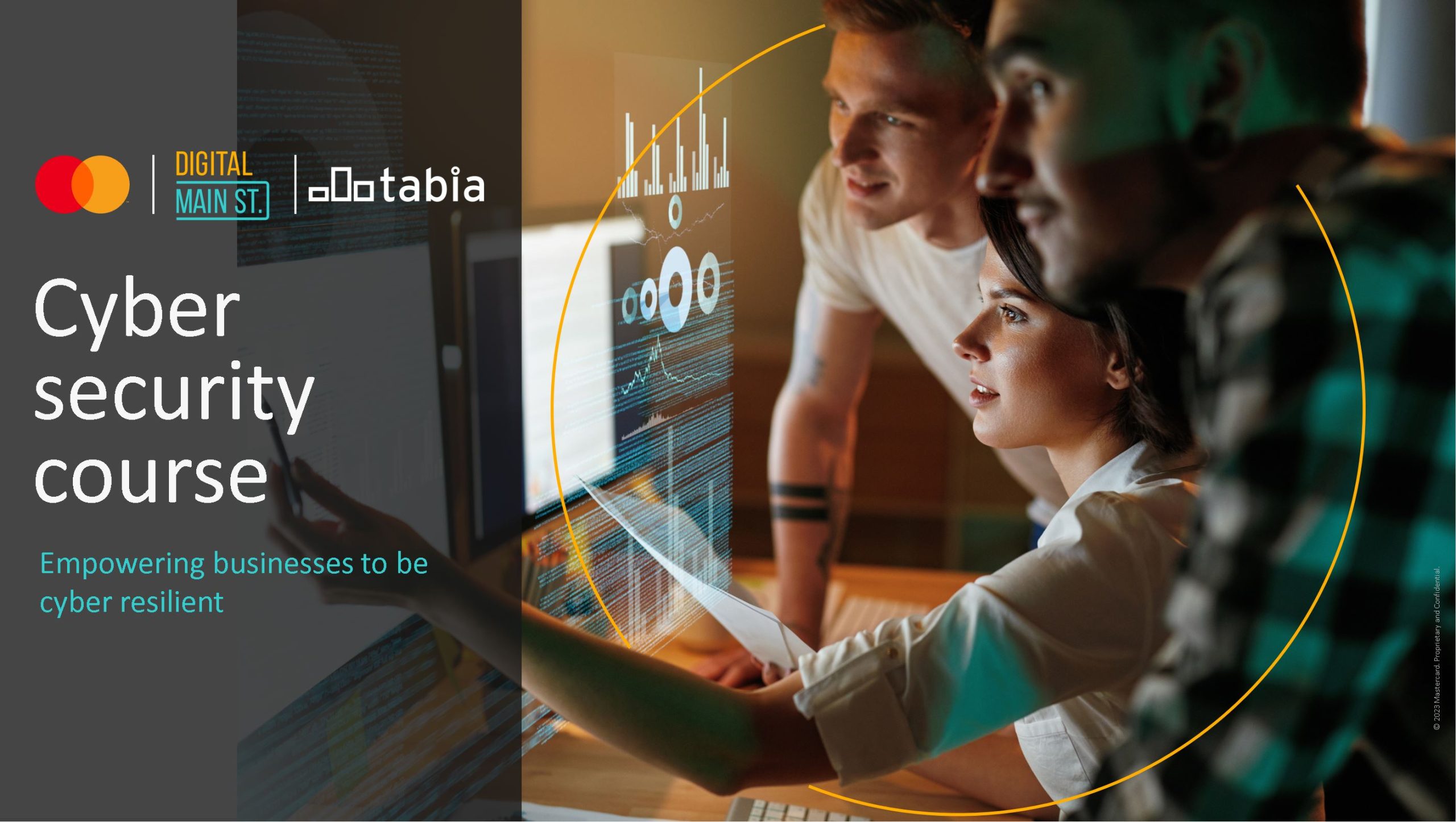 With business operations increasingly online (according to StatsCan, 1/3 businesses in Canada had eCommerce sales in 2021), cybersecurity isn't just a necessity—it's a mandate.
According to Digital Main Street's internal digital assessment, a benchmarking tool that helps business owners identify potential areas of focus for their own digital transformation (August 2023):
68% of businesses either do not have or do not know if they have any form of cybersecurity in place.
57% of businesses do not know or are aware if their assets are protected from a cyber attack.
72% of businesses do not know or do not monitor data privacy and security.
68% of businesses report that security awareness training has never been provided.
Recognizing this urgent need to fortify small businesses against cybercrime, we're thrilled to introduce our on-demand cybersecurity course for SMBs, presented by Mastercard. The course was designed for entrepreneurs looking to future-proof their business by learning actionable tactics that can be easily implemented, including how to train their employees to mitigate risk and how to protect their customers data.
"Ensuring the safety and security of our small businesses is of the utmost importance. With the increasing risks and targeting of cyber-attacks, it is imperative that we work with our local businesses to ensure they recognize the importance of cybersecurity and the associated risks, not only for their businesses but also their customers." – John Kiru, Executive Director – Toronto Association of Business Improvement Areas, Founder – Digital Main Street
The course was developed in partnership between the Toronto Association of Business Improvement Areas (TABIA), Digital Main Street, and Mastercard. BizLaunch brought the course to life using their expertise in small business education and training.
"When it comes to cybercrime, unfortunately no business is safe – this is especially true for small businesses with limited resources to defend themselves. Together with Digital Main Street, Mastercard is pioneering next-generation training and solutions that Canadian small businesses can take advantage of to secure the digital economy and bolster their cybersecurity." – Aviva Klein, Vice President of Digital Payments & Cybersecurity Solutions at Mastercard
The course will cover the basics and fundamentals of cybersecurity for small businesses, including:
Module 1: Cybersecurity Basics: Understand the fundamentals of cybersecurity and how it directly impacts businesses and data safety.
Module 2: Proactive Security – Grasp best practices for safeguarding businesses from cyber threats and the importance of data backups.
Module 3: Social Engineering – Learn about the art of social engineering and strategies to prevent employees from falling victim.
Module 4: Incident Response – Equipping small businesses with a systematic plan to address and recover from cyber incidents, including the role of cyber insurance.
Together, we will continue to foster a culture of cybersecurity awareness within small businesses, enabling them to navigate the online realm safely and confidently. Small business owners need to be proactive, not reactive, in securing their business' digital future.
Don't wait for a cyber incident to redefine your strategy. Enroll today! (please note you must be logged into your Digital Main Street account to access the course)
Click here for a detailed video on how to access the course.