City pledges relief for Eglinton businesses affected by LRT construction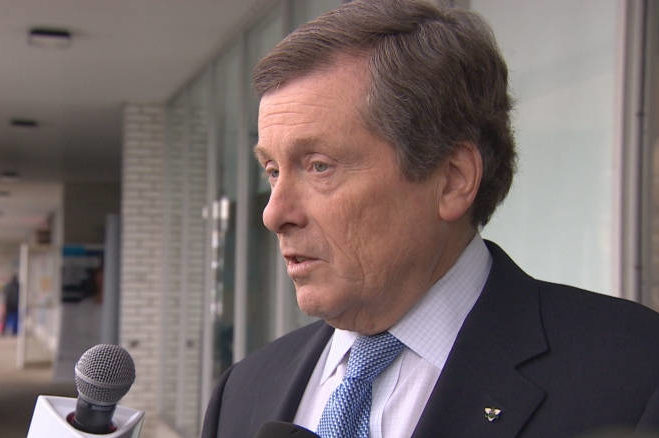 Source: CBC
Mayor John Tory announces measures to get people to visit businesses along Eglinton despite LRT construction.
The city is stepping up efforts to help businesses negatively affected by the ongoing construction of the Eglinton Crosstown LRT project.
Mayor John Tory, who held a news conference in the area with local Coun. Josh Colle on Friday, announced a series of measures to encourage residents to visit shops in the area despite the disruptions caused by sidewalk and road closures.
"There are real impacts on local businesses and neighbourhoods while we build transit," Tory told reporters.
Since work began in 2016, local businesses have seen a drop in pedestrian traffic and a plunge in revenue.
The chair of the local business improvement area told CBC Toronto last summer that at least 50 have gone under.
Tory said the Toronto Parking Authority will offer a $6 discount through its Green P parking app — that's the equivalent of two hours of free parking for most spots in the area. The free parking will extend across Eglinton Avenue, from Jane Street to Don Mills Road. In addition, the city will launch a cleanup effort in the coming weeks.
Tory said the supports, which will cost city hall upwards of $100,000, will provide support until the major project is complete. The work is expected to continue until 2021.
"I believe these supports will help residents and businesses during construction," said Tory.
A sidewalk on the north side of Eglinton at Oakwood Avenue was closed last August for the construction of the Eglinton Crosstown. Stores on that side of the street told CBC Toronto their business was suffering. (Natalie Nanowski/CBC)
Toronto city council recently approved $100,000 in funding to expand the Digital Mainstreets program, which helps businesses adopt digital technology. The money will also fund demographic research aimed at helping businesses on Eglinton attract customers..
It's unclear how much the parking measures will cost the city. A spokesperson with Tory's office said that will depend on how many people take advantage of it.
Metrolinx, the regional transportation authority responsible for building the LRT line, is pledging to kick in funding for advertising campaigns, community events, and to cover event fees for local BIAs.