BIA seeks to improve Mount Dennis main street with streetscape plan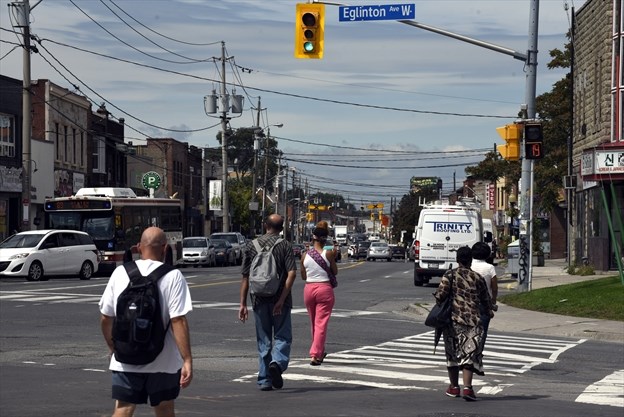 Source: www.toronto.com
The Mount Dennis Business Improvement Area (BIA) has hired a landscape architect firm to help create a master streetscape plan to help guide proposed new development. The BIA has asked the firm to enhance the Weston Road and Eglinton Avenue intersection. – Justin Greaves/Metroland
In anticipation of Mount Dennis becoming Toronto's second largest mobility hub, the Business Improvement Area (BIA) has been granted city funding to create a vision for streetscape enhancements.
"I believe we have a great opportunity in Mount Dennis to re-shape Weston Road, largely because of the (Eglinton) Crosstown (LRT)," Mount Dennis BIA co-ordinator Laura Alderson said.
"One of the reasons the BIA is embarking on a master streetscape plan is to get ahead of, and to some extent, be able to control what happens along Main Street."
Developers have begun showing interest in the neighbourhood, purchasing two properties within the BIA's boundaries – the former Coffee Time at Ray Avenue and Weston Road, and the north east corner of Hollis Street and Weston Road, which is currently an Asian restaurant, according to Alderson.
That's why, in part, the local association of businesses sought financial support from Toronto's BIA Streetscape Master Plan Funding Program, which helps BIAs make both short, and long-term improvements along their retail strips.
"One of the reasons we applied is, we know change is coming to Mount Dennis and we want to be on the leading edge of that," Alderson said. "We want to be ahead of the curve."
The streetscape master plan creates an esthetic vision for the BIA. It identifies opportunities for capital improvements, and identifies existing and proposed street elements, like bike rings, benches, banners, and greenery.
"We want the community to have input into what they want to see," Alderson said.
"It will mean something for everyone, including new restaurants, more cafés and shops that will cater to a new demographic that will inevitably want to settle around what will essentially be the second largest hub in the city."
Once complete, the master plan is submitted to the city and serves as a reference for other city divisions and agencies as well as city council when development is proposed for the area. A maximum of $25,000 in funding is available to BIAs to complete a master plan.
The BIA has hired Junction-based firm PMA Landscape Architects. The PMA team, with principal architect Fung Lee at its helm, will present a preliminary design at the BIA's annual general meeting in December. It is currently taking inventory of the existing elements and identifying opportunities for improvements, Lee said.
"We're keen to introduce art into the public realm. Our philosophy is we don't need expensive things to be creative," she said, noting the plan is still in the preliminary stages. "There's a lot of value in thinking outside the box. It's a very collaborative process."
The community will be invited to take part in visioning workshops, she said. The BIA has asked PMA to look at creating gateways at Ray and Lambton Avenues – the northern and southern boundaries. Currently, there aren't any signs or decorative elements to indicate where its entryways are.
A manufacturing centre in its 1960s-early '70s heyday, Mount Dennis once had a bustling main street. Since industry, like Kodak, shut down, the neighbourhood has seen little change.
BIA chair Robert Caplan, owner of Caplan's Appliances, a family-run business in Mount Dennis since the 1950s, said he is looking forward to the neighbourhood's transformation, but doesn't want to anticipate what form it will take.
"I'm excited about what's going to happen. I know there's going to be change, but I have no idea what it will look like," Caplan said.
Alderson said PMA recognizes that Mount Dennis is a "working class neighbourhood, but we like nice things."
"It's a little bit edgy, a little creative," she said.