January Electricity Rate Freeze
The province-wide shutdown means that more people will be staying home or running their small businesses from home. The Ontario Government has taken steps to hold the price of electricity at 8.5 ¢/kWh for electricity used from January 1 until the end of the day on January 28, 2021. Small Businesses on either Time-of-Use or Tiered electricity rates will have rates frozen for all of January. This is a great time to have your bills analyzed to ensure that you are on the correct rate structure based on how you use energy.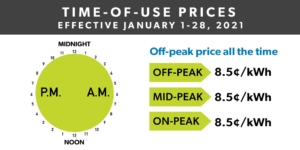 Please contact Nick Brown, TABIA's Energy Manager at nbrown@toronto-bia.com for more information.
To learn more about the services TABIA's Energy Manager offers, please click here