Filling the Gaps: The Role of Business Improvement Areas and Neighbourhood Associations in the City of Toronto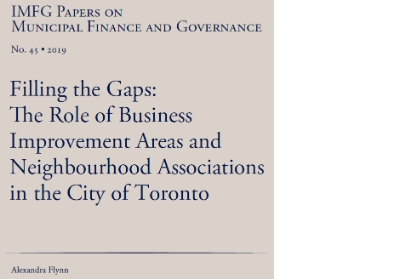 In October 2018, the City of Toronto elected 25 councillors to serve as the "local" voice within the city's governance model. In addition to these local representatives, Toronto has 83 Business Improvement Areas (BIAs) – it was the first city in the world to introduce them – and more than 150 neighbourhood associations (NAs), which claim to represent the interests of residents and businesses on matters ranging from the public realm to planning. There is little information on the role that these bodies play in local decision-making, and the relationship between these local interest groups and elected officials. As City Council reconsiders its governance in the wake of the provincial government's decision to reduce the size of Toronto's City Council, the role of BIAs and NAs must be included. This paper provides background and comprehensive data on the city's BIAs and NAs, including their locations, functions, and correlations with other socioeconomic indicators, such as income. It also identifies the city rules that govern these bodies and their role in planning and other decisions. The paper concludes with options for City Council in reforming its governance model.
Author:
Alexandra Flynn is an Assistant Professor at the Peter A. Allard School of Law at the University of British Columbia, where she specializes in municipal and property law and governance. Before joining UBC, she was an Assistant Professor in the City Studies program at the University of Toronto (Scarborough), where she taught and researched in the areas of urban governance, property, and local government law. Her previous project, "Reimagining Local Governance: The Landscape of 'Local' in Toronto" (2017), examined Toronto's complex local governance model along with its motley of institutions – some granted delegated authority and some not – culminating in several papers on community councils and local decision-making. Her current project focuses on Indigenous-municipal relationships in land use planning. In 2017, she received a SSHRC Insight Development Grant to investigate the notion of a "municipal duty to consult" and its potential for reciprocal, respectful relationships between Indigenous and municipal governments. She is a Fellow at the Institute on Municipal Finance and Governance.