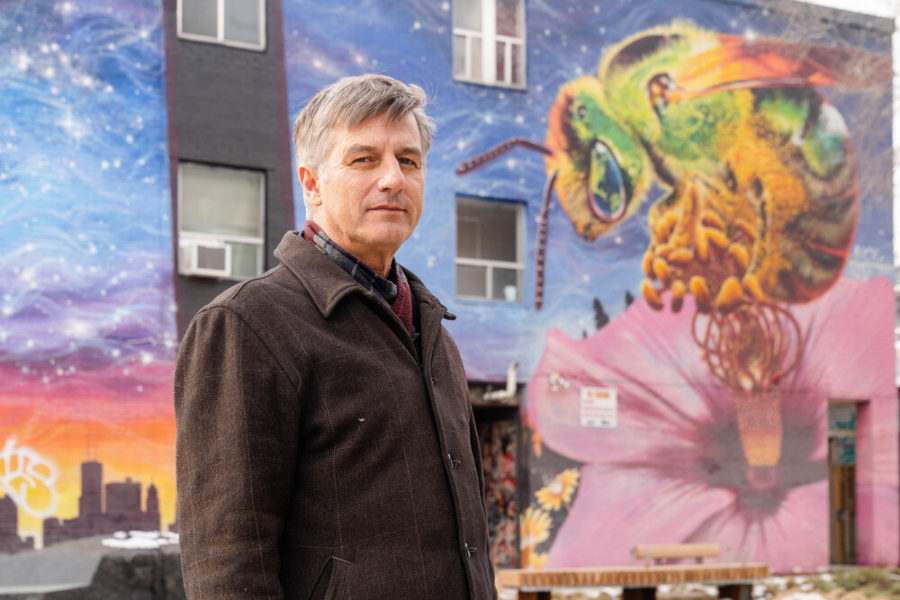 "We don't have garbage cans," laments Brian Burchell, chair of the Bloor Annex BIA. "We've been without them since construction ended September 23." The city department responsible for installation could've had them in place the very next day, he clarifies. It's now February. For a few months, the neighbourhood's garbage guy has been picking up the trash and relocating it a few blocks up. "It's pretty frustrating," says Burchell, who's been a part of the BIA for 25 years, a role which is strictly volunteer.
It's not the first time he's clashed with city departments, but it's part of the cause he's put himself in the centre of as the chair for the business area for the past eight years. "Different BIAs have different relationships with the city… I'm sure that some rely on the BIA office exclusively to be the go-between," says Burchell. "But we have more direct relationships with the city departments and that just speaks to our particular makeup and our needs."
The parkette and mural project has a lot of eyes on it, with departments like city planning hoping to champion the revitalization as an example of how to rethink the right-of-ways. It's broken new ground and taken an inventive approach to highlighting the character of the neighbourhood.
But it's also required the chair and his BIA to sell the area's businesses on a long-term view, a concept seemingly at odds with his day job as the publisher of The Annex Gleaner, one of the last independent news monthlies in the city. He admits the whole project – taking potentially commercial spaces and turning them into parkettes – is unusual. "We feel (they will) ultimately have an economic benefit because it makes the Annex a more attractive place to come to," he says. "In the near term, it takes away the value of that property and perhaps even in the longterm for the adjacent landowner, it deprives them of potential income, so one has to take a very long view… it's a fight."
But that's what drives Burchell forward, that fight to make the community better. For 25 years he's been a tireless champion of Bloor Annex. He can't help it, even though he lives over on the Danforth now, he's held onto that love for the neighbourhood since he lived on Brunswick Avenue for 13 years. Even when he lived in Guelph for a decade he commuted back to Toronto and his post at the Annex Gleaner.
"I find city building, which is what I think we do, to be inherently satisfying and rewarding and something I can be proud of," he says. "In many respects, the BIA work and the paper's work go hand in hand."
There's no model for projects like this. Sure, there are checks and balances. There are feasibility studies that can be done. There are pieces and precedents from past projects that could be used. But each neighbourhood is so different that it's hard to really create a blueprint for bringing together different departments and stakeholders and making everybody happy. When asked how the businesses feel about the success of the project, Burchell is a bit cagey.
"I can't speak for them… I'm elected to speak for them but I won't speak for them as to their opinion of the board or my performance," he says.
The chair, however, says the BIA does weekly patrols on vacancies. That's where he lets his pride sneak through, just for a moment.
"We have our finger on the pulse about how businesses are doing," he says. "It's already feeling better… can you imagine 2020? It's time to reap the benefits of all this, (to) get the dividends from our investments."
Source: www.kickstartbia.com